Create and send email in Outlook
Create and send email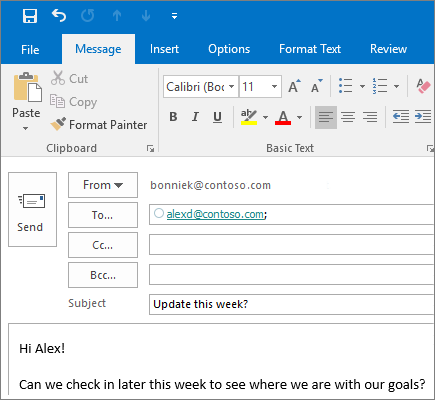 1. Choose New Email to start a new message.
2. Enter a name or email address in the To, Cc, or Bcc field.
3. In Subject, type the subject of the email message.
4. Place the cursor in the body of the email message, and then start typing.
5. After typing your message, choose Send.
---
Use @mentions to get someone's attention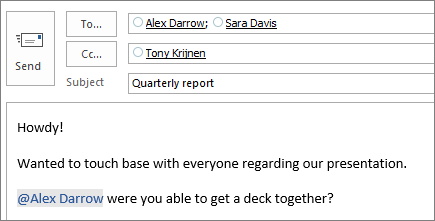 1. In the body of the email message or calendar invite, enter the @ symbol and the first few letters of the contact's first or last name.
2. When Outlook offers you one or more suggestions, choose the contact you want to mention.
3. By default, their full name is included. You can delete a portion of the mention, for example, everything other than the person's first name.
4. The mentioned contact is added to the To line of the email or the meeting invite.
---
Focused Inbox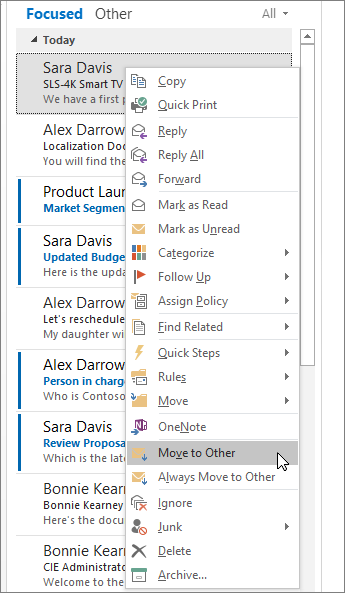 Focused Inbox helps you focus on the emails that matter most. It separates your inbox into two tabs — Focused and Other.
If messages aren't sorted the way you like, you can move them and set where to deliver future messages from that sender.
1. Select the Focused or Other tab.
2. Right-click the message you want to move and select Move to Other or Move to Focused.
To turn the Focused Inbox on or off:
• Select View > Show Focused Inbox.